Save on water bills without sacrificing beauty with Xeriscape landscapes by Advantage Landscape in Las Vegas. With professionally designed and installed xeriscapes, you can have your own drought-tolerant lawn oasis that is easy to maintain and lovely to look at year-round.
Water Conservation
Native Plant Preservation
Reduced Pesticide Use
Help Local Wildlife
Low Maintenance
SNWA Rebates
What Makes Xeriscapes Unique?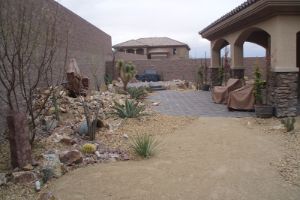 The idea of xeriscaping is to create a beautiful landscape while simultaneously conserving water resources. Rather than using traditional, thirsty varieties of turf, xeriscapes feature colorful, fragrant, drought-tolerant plants.
Crape Myrtle
Desert Spoon
Firebush
Agave
Lantana Camara
Peruvian Apple Cactus
Rosemary
Oleander
Palo Verde Trees
Water Conservation & Nevada Plant Preservation
Native desert plants need minimal care and thrive on very little water, so there's no need to install a complicated irrigation system. We can design and install a system that gives your plant varieties just what they need, where they need it. No excess or overwatering. No more wasted money literally going down the drain or evaporating into thin air.
Save Money On Fertilizers & Pesticides
Xeriscapes plants are already adapted to our Las Vegas environments. That means they're not as susceptible to pests and can get much of the nutrition they need from our native soils. If you don't need a lot of different fertilizers or pesticides, you don't have to buy them. It's a win-win for your wallet.
Landscapes That Help Local Wildlife
So much of our wildlife, including bees, depend on native plants as a food source, and likewise, plants rely on native wildlife to pollinate and distribute seeds. By using native plants, you support this natural cycle with very little maintenance.
SNWA Rebates
By upgrading to a water-smart landscape, you may qualify to receive up to $3 per square foot of grass converted from the Las Vegas Valley Water District. To make sure you qualify and apply for the Water Smart Landscape Rebate, visit SNWA.com.
Xeriscape Installation In Las Vegas
With the right landscaper, a desert oasis can be colorful, breathtaking, and fragrant. Contact us at Advantage Landscape to schedule your Las Vegas Xeriscape consultation today.