If you are looking to upgrade your landscape with a retaining wall or another masonry installation in Las Vegas, NV, Advantage Landscape can help you. Skip the stress and hassle of a DIY construction project by hiring our experienced landscapers to remodel your backyard or front porch.
Retaining Walls
Home Entryways
Flagstone, Paver, Brick, Slate & Gravel Patios
Brick Edging For Gardens
Raised Garden Beds & Planters
Fire Pits & Outdoor Fireplaces
Outdoor Kitchens, Bars & Grill Stations
Columns
Popular Retaining Wall Materials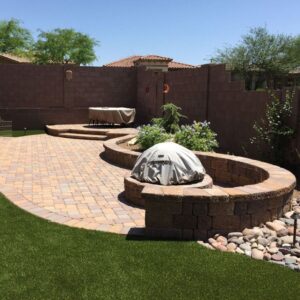 If you are planning on installing a custom retaining wall, there are so many possible options to choose from. Depending on your desired aesthetic, we can install all types of retaining walls.
Concrete Blocks
Traditional Bricks
Poured Concrete
Stone Veneer
Boulders
Natural Stone
Gabion
Brick Landscaping
If you are looking to create a classic, rustic, and timeless aesthetic, brick landscaping installations are an excellent choice. Brick masonry is naturally durable because its staggered pattern provides extra structural integrity.
Concrete Block Installation
Much like bricks, concrete blocks are usually also installed in a staggered fashion. The main differences are that the blocks are larger, cheaper, and grayer than bricks would be.
Natural Stone Yard Accents
Stone masonry is a great option for those seeking to add "nature-inspired" walls, paths, garden beds, pools, and ponds to their yard because—unlike bricks or concrete blocks—each individual stone has minor variations in shape, size, texture, and color. Limestone, sandstone, granite, and rubble are all popular and visually pleasing choices.
Solid Vs. Veneer Masonry
Veneer masonry involves attaching a thin layer of brick, natural stone, or man-made stone to the outside of a structure in order to create the illusion that the entire structure is built solely from the outer material.
Many people still opt for solid masonry because it is sturdier, more traditional, and less susceptible to weather damage.
Masonry & Landscaping Contractors In Las Vegas
Advantage Landscaping offers commercial and residential landscaping services throughout Las Vegas. Add flair to your backyard by opting for stone, brick, or concrete landscaping masonry. Contact us today to learn more about how to revamp your yard with one of our spectacular stone installations.