At Advantage Landscape, get beautiful artificial grass installation for your home or business in Las Vegas, NV. Convenience and beauty? Yes, you can get the best of both worlds. Find out more about why so many desert dwellers are converting to this realistic option.
We look forward to introducing you to the look, feel, and benefits of one of Vegas' most popular landscape design choices.
Drought-Friendly
Minimal Maintenance
Safe For Children & Pets
Looks Great Year-Round
Long-Lasting & Strong
Drought-Friendly
The Las Vegas Valley Water District has declared that no new grass can be planted in front yards of single-family homes. They've also put limits on side yards and backyards. If you prefer the green look of turf to rock or desert landscaping, artificial grass is a beautiful alternative that also happens to be drought-friendly.
Minimal Maintenance That Looks Great
If you opt into having artificial turf installed, you'll never have to worry about mowing the lawn, pulling weeds, or using fertilizers and pesticides. The only regular maintenance you will likely have to do is remove debris using a leaf blower or sturdy broom.
Safe For Children & Pets
An artificial lawn doesn't need to be fertilized or sprayed with toxic pesticides, so it's completely safe for kids and pets to play on. You also won't have to worry about a playful puppy or curious grandkids digging holes in the grass or tracking dirt in the house.
A Beautiful Lawn All Year-Round
A real lawn might dry out and turn yellow during Vegas's sultry summers. Then, it spends spring overgrown and weedy without constant care. Your artificial turf will always look the same in hot or cold, rain or shine.
Long-Lasting & Strong
Most brands of synthetic turf can last anywhere between 8-20 years. Ultimately, this landscaping option can save you money —unlike real grass — on upkeep, replanting, and watering.
Types Of Artificial Turf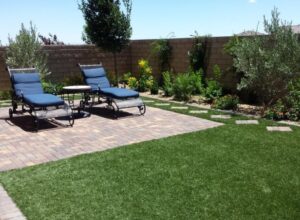 Artificial turf comes in many varieties. The look you like or features you want may depend on the material that each blade of "grass" is made of. We can help you weigh the pros and cons of each option.
Nylon – Nylon grass is the strongest, most durable product on the market, although it has a stiff texture and can be pricier than other options.
Polyethylene – If you're looking for a softer turf that looks and feels more natural than nylon, polyethylene is an excellent choice. Plus, it's non-porous, so it won't retain odors, making it an ideal choice for pet owners.
Polypropylene – Polypropylene is one of the cheapest materials used to make artificial grass. It's also the least durable option – constant sun exposure and foot traffic can cause it to become misshapen over time. This may not be ideal for high-traffic areas.
Artificial Grass Installation In Las Vegas
If you're looking to replace your old, thirst lawn with a new, environmentally-sustainable artificial turf, Advantage Landscape can help. We provide grass removal and artificial turf installation services throughout the Las Vegas Valley. Contact us today and learn more.