If you're considering a new look for your Las Vegas home, Advantage Landscape can help with residential landscaping installation services. We provide complete landscape design and installation of features like artificial turf, pavers, and water features.
You don't have to come home to the same old yard. Let's create a space you love to live in.
Upgrade Your Residential Landscaping
Enjoy every square foot of your home, including the outdoors. An attractive back and front yard can increase your private homes' property value or decrease maintenance on a rental you own. Make entryways more spectacular. Create impressive spaces for entertaining.
Who wants to go out when views, comfort, and entertainment is waiting for you in your own yard?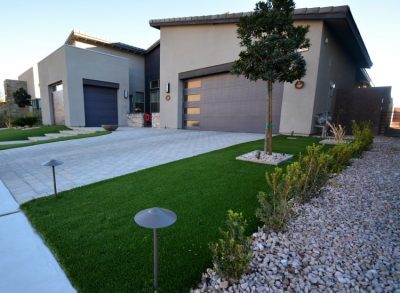 Pave Patios, Install Fire Pits & Build Outdoor Fireplaces
Install Drought & Desert-Friendly Plants & Trees
Design New Walkways, Steps & Raised Garden Beds
Desert-Friendly Lawns For Las Vegas Homes
Tired of replacing sprinkler heads and skyrocketing water bills? We can help you get rid of the grass. Buying a new home? Start your yard off right. Lawn alternatives like synthetic turf, desert landscaping, and decorative rock are incredibly popular throughout the Vegas Valley.
Front and backyard remodeling to replace grass conserves water, saving the environment and your pocketbook. Ask us about more desert-friendly options that look amazing.
Watch Your Design Come To Life In 3D
Sometimes we know what we want, but it's hard to decide how to put it all together. Not sure where to plant those palms or install a retaining wall? See the big picture. We can show you the entire layout of your new landscape installation modeled with professional, 3D software. Make changes before work starts for results you're sure to love.
Landscaping Installation In Las Vegas
If you want exceptional residential lawn design done right, contact the professionals at Advantage Landscape in Las Vegas, NV. We look forward to helping you plan and install your ideal oasis in the desert. Contact us today to schedule your consultation.