Get a yard that is beautifully designed and easy to maintain, Advantage Landscape in Las Vegas, NV, is here to help with desert landscaping. Mix native, water-smart plants with decorative rock. We work with you to plan your lawn's new layout and look and give you a sneak peek with our 3D rendering software.
Find out more about your many options when choosing a desert landscape for your Las Vegas home or business.
Water Smart Plant Selection
Decorative Rocks & Gravel
Get Creative With Lighting
Boulders & Rock Gardens
Professional Desert Landscaping
Deciding on the right plant, or any plants and how to mix them with hardscape options can be challenging. Don't waste time, money, or effort trying to do it yourself. With over 20 years of experience, we can help you avoid costly mistakes and bring your vision to life sooner.
Sit back, relax, and let our landscaping professionals take care of the hard stuff.
3D Design & Planning Tools
Work With Your Current Home Design
Upgrade Or Update With Landscape Remodels
New Yards From The Ground Up
Low-Maintenance Designs
Save Money On Utilities
Access To The Latest Trends
Popular Las Vegas Desert Plants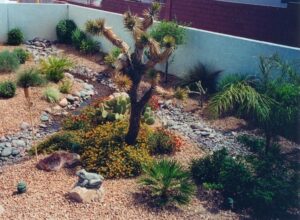 If your ideal desert landscape still includes plants, there are many varieties that thrive in Las Vegas. We can introduce you to flowering cactus varieties new to you or help you track down your favorite succulents.
Incorporating healthy, desert-friendly plants into your newly designed yard is easy when you have local professionals on your side.
Blue Agave
Banana Yucca
California Poppy
Desert Marigold
Ghost Plant
Juniper Bush
Golden Barrel
Xeriscape To Conserve Water
Conservation landscaping techniques, like xeriscaping, look great when done right and help save the environment. Xeriscapes use little to no water, saving you on maintenance and utility fees over time. These designs are great when you don't have time to fuss in the yard, rent out your property, or live in Vegas part-time.
We can help you with every step of your desert landscape design and installation.
Layout & Visualization
Grass Removal
Plant Selection
Stone Selection
Highly-Efficient Irrigation Installs
Decorative Landscaping Company In Las Vegas
Get started on your next desert landscaping project. Contact us today at Advantage Landscape of Las Vegas. We look forward to bringing the beauty of the desert to life for you.