For commercial landscaping installations that show you mean business, Advantage Landscape of Las Vegas, NV, can help. Our business landscape installation services include all structural needs, accents, and layout design for a complete solution.
New Grass Or Artificial Turf
New Irrigation & Water Features
Desert Landscaping & Xeriscapes
Raised Garden Beds & Planters
Optimized Plant & Tree Planting
Golf Putting Green Installs
Paving Stone, Pebble, Or Brick Accents
Why Is Commercial Landscaping So Important?
A company's exterior reflects its values, professional image, and standards. Your curb appeal can impact how your clients, employees, and community perceive your potential value and the quality of your services.
Having grounds that look deserted, neglected, or run-down can be a turn-off for buyers and clients.
Poorly Tended Land Lowers Property Value
Shabby Looking Or Bare Grounds Deter Clients
Overall Presentation Reflects On Company Image
Well-Planned Trees Avoid Blocking Business Visibility
Curb Appeal Boosts Employee Morale
The results of a study from the National Institute of Health (NIH) show that exposure to natural elements in the workplace can improve productivity by lowering employee stress and promoting mental health. Employees who work in a pleasing environment feel more focused and optimistic about the company's business ethics.
Properly planned and maintained grounds around your business can give your employees confidence that management cares.
Attractive Elements For Exterior Remodels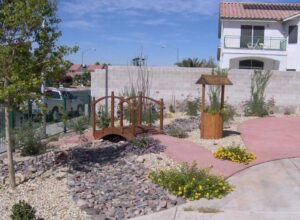 Great commercial landscaping can engage the senses while promoting a sense of peace and structure. The sounds of water or swaying leaves and smells of flowers create a peaceful ambiance for clients to relax, stick around, and come back.
Decorative Pools,
Ponds & Water Fountains
Green Lawns & Planters
Plant-Lined Paved Walkways
Paved Seating Areas
Eco-Friendly Features & Environmental Factors
These days, more and more companies are respected for using environmentally friendly procedures. Outside your buildings is no exception. Our professional landscapers can help you with desert-friendly solutions like xeriscapes, low-water plants, artificial turf, and desert landscaping.
See 3D Models Of Your Landscaping Layout
We use architectural 3D modeling software to plan the design of your business grounds, so you can see a preview before any work begins. This method saves time and money on potential mistakes and gives you a chance to request changes or specific elements.
You'll be able to review the entire layout, including plant groupings, paving plans, and the placement of water features.
Level Up Your Commercial Landscaping Today
Call us today at Advantage Landscape in Las Vegas, NV, to discover how we can make your commercial property shine. Get a layout design that reflects your company's commitment to excellence. We provide complete installation services.