Advantage Landscaping provides professional tree and plant installation in the Las Vegas area. It's not always easy to maintain a beautiful landscape in the desert. Choosing the right plants for your yard is a good start. We can help you choose the right mixture of shrubs, trees, flowers, succulents, and cacti.
Why Grow Trees In The Desert?
Las Vegas is known for its casinos, not for being green. But with the right level of arbor care, many trees grow very well even in our harsh Mojave climate. Properly cared-for trees can provide shade, privacy, and food — yes, many kinds of fruit trees grow very well in the Vegas Valley.
Trees not only look beautiful, but they are also great for the environment. They produce oxygen, help improve air quality, preserve soil, help conserve water, and support wildlife.
Best Trees For Desert Dwellers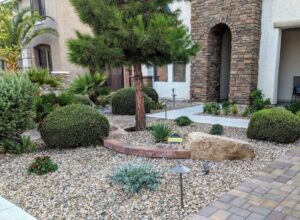 Unlike trees growing naturally in a forest, urban trees do best with regular care. Our landscapers can help you prevent or eliminate tree diseases and pests. We can also treat and prune your plants to assist with growth and structure and to remove dead and diseased branches.
We can install and maintain the most popular types of trees in residential and commercial properties alike.
Desert Trees
Mesquite
Sumac
Acacia
Ironwood
Desert Willow
Flowering Trees
Crape Myrtle
Magnolia
Oleander
Museum Palo Verde
Evergreens
Southern Magnolia
Japanese Privet
Carolina Cherry
Bay Laurel
Olive
Live Oaks
Italian Cypress
Chinese Elm
Majestic Ash
Acacia
Sumac
Palms
Date Palms
Sago Palms
Fan Palms
Canary Island Date Palms
King Palms
Fishtail Palms
Coconut Queen Palms
Citrus & Fruit Trees
Orange
Lemon
Lime
Cherry
Peach
Plum
Apricot
Pear
Great Ground Cover Options
No landscaping is complete without a careful selection of ground cover. These low to the ground, creeping plants naturally spread out over large areas of your lawn without requiring extensive maintenance.
When designing your outdoor space, you can choose from a wide variety of flowering ground covers, such as colorful lantana or the fragrant Texas sage with its silvery-grey leaves and fragrant lavender-purple blooms.
There are many other heat-tolerant ground covers and shrubs you might want to consider. We have many desert-friendly options in our plant library.
Rocky Ice Plant
Trailing Rosemary
Silver Bush Morning Glory
Little John Bottlebrush
Green Carpet
Boxwood Beauty
Pink Trailing Verbena
Cassia Desert Shrub
Hardy Cacti & Succulents
Nothing says desert landscaping quite like cactus plants and succulents. These drought-resistant plants store water in their stems, roots, or leaves and grow very well in dry, arid environments. We can help you install an entire garden or include a few cacti and succulents throughout your landscape or xeriscape.
Weeping Yucca
Cassia Desert Shrub
Blue Agave
Golden Barrels
Aloe
Sticks On Fire
Blue Fingers
Saguaro
Tree Installation & Planting In Las Vegas
Whether you are a new Las Vegas valley home or business owner who doesn't know where to start, or you have an established landscape but need help with ongoing maintenance, Advantage Landscaping in Las Vegas is here for you.
Contact us with any questions you might have and to set up an appointment for a landscape design consultation. We pride ourselves on our excellent customer service and look forward to meeting with you.